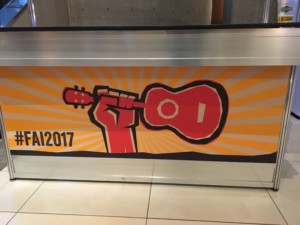 Last week, I attended the FAI conference in Kansas City. Music, music, music! And it's all very high quality. Artists from all over the world descend on KC to present their music in over 2000 showcases, take part in panel discussions, meet, greet and jam late into the evening. 10am-4am everyday. 4am!
This post will be like my personal diary, a log (a blog?) about my experience and what I considered the real highlights.
This was my 3rd year to attend to the conference. I try to participate fully. I've had official showcases with Maria the Mexican as well as private show cases under my own name and jammed with friends like Under The Big Oak Tree in theirs.
This was my first year to volunteer. In addition to my mission of meeting and hanging out with musicians, taking classes and basically finding out what everyone is doing, my duties included – recycling, floor rover and door monitor. Being a volunteer was a great benefit in being there. People ask you stuff, you see almost everyone at least walking by at some point, you get to hang out at different rooms and hear the music going on there.
People start to recognize you, it's easy to get a conversation going, etc. I really wished I had known to volunteer in that first year. I think I would have made connections earlier on and would know even more of the regulars there.
It's an exhausting few days. My dear sweet father-in-law did put me up in KC so I didn't have to drive back and forth from St. Joe. I'm not to proud to say, I did sleep a few hours in the car one early morning. Trying to make the most of it takes a lot of energy and stamina. I wasn't about to wimp out. But I thought about it.
Folk Alliance International Conference
Kansas City MO – Feb 15-19, 2017
Westin Crown Center & Sheraton Hotels
Mud stomp Records and KC Music Collective rooms. Private showcases are held on the 5-7 floors of the Westin. They run from mid afternoon to 4am everyday. Every room on those floors is hosted by an individual or organization that presents artists and their music. These private showcases are a huge part of the culture at FA. I was able to get to most of the rooms and see a ton of acts (I hope I got photos of almost everyone). The Oklahoma room has been a darling of the conference in years past, I spent a lot of time there this year and did see some great Okie acts. I've got to say though that the KC Music Collective and the Mud Stomp records (also a KC based label) were the top rooms this year. High quality and variety of acts and proper midwestern hospitality. Both were great rooms to hear new acts and still see old friends. It's hard for local musicians to hang out because everyone is playing at the same time. This is a huge benefit to taking part in the conference. The ability to hang with your peers.
Beppe Gambetta and Cécile Doo-Kingué classes There is a music camp associated and promoted heavily through the FAI. A big effort is made to pass along artistic traditions and musical ideas to the next generation. As a teacher and player, I always love the camp and have seen many great artists there.
I was able to take two courses with Italian flat picking superstar, Beppe Gambetta. He is a true expert in the style and personally knows the fathers of the genre. He was a great teacher and a saintly type fellow. Awesome to hear him talk and watch him play up close. His showcase was a highlight for me and his wife even gave up her seat for me. Now that's chivalry in reverse. Sweet couple with hearts for music and the guitar. Gratsi and Ciao's all around.
I sort of wandered in to Cécile's class which was supposed to be about cool licks and such. She had them in a deep bag that's for sure. She took time to get to know us and let everyone play. It was tremendous fun. We talked some to to just find out how this amazing lady learned to do what she does. It's a great story. I was especially captured by her "stand and deliver" approach and her love of tradition.
The session got pretty heavy. I think we were all in tears at some point. Perhaps a lack of sleep. Her playing and her spirit really moved us all. I hope I'll see her again soon.
Sideman class – So mostly I like to play with others. I've played the sideman role in almost every band I've ever been in. I'd like to think I know something about it. It was great to get the perspective of others in the same role.
This was a panel discussion dedicated to the art of the sideman. All had slightly different interpretations based on their roles as violists, guitarists, multi-instrumentalist or even tour support. Their advise… build relationships, be proactive, meet those 2 guys in LA that know everybody, make your approach, drop messages and email management.
My favorite idea was this band that specialized in backing other artists. The sentimentals with Jacob Chand Lundry are a professional backing band. They add value to your name while you are touring in europe and contribute to ways of cutting costs on the road. The biggest advice I saw was that it was important to take a leap, make a shift, go to school, do something to put yourself in front of the artists you want to work with. Formal strategies? Not so much. Make your Lobby call on the road, be a good hang and play great seemed to be on the bill.
Creative business models Another panel but for more festival promoters. Interesting though.
Expo Vendors from all over the country including labels, musician and touring services, managers and agents as well as musical products and instruments. I personally know the guys at CD Baby, talked to the nice people at DR strings and Tree House drums. I bought some gifts for the family here too! Thought it was very cool that one local venue, The Dubliner was hosting a booth. Out to grab some touring national acts on their way through KC and promoting all the great music they have going on there.
Silent Auction Lots of neat stuff to bid on. Art, instruments, autographed posters. I did not win. But I think you have to bid.
Performers (and friends) in Action
Paula Cole was the MC for the FAI Awards Ceremony.
Kris Kristopherson! Big stars all around but I didn't see all of 'em.
Megan Mullally (Will and Grace, Children's Hospital) brought a little funny. She's a singer and player and I really hated to miss her showcases. The volunteer must be responsible to his post.
David Amram – Lifetime Achievement Award. I love David. This guy is the living history of so many genres in the last century. Jazz, classical, folk and world. I took his class last year, got hang with him and saw him this year again. He's 86. I saw him on the jam floor at about 1 in the morning with his hands full of percussion and flutes. He wouldn't let me help him carry anything. When he came back by he was wearing a cowboy hat. Perhaps a gift from the Okies.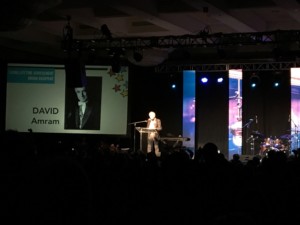 Kris presenting for the amazing Malvina Reynolds!
Bruce Cockburn! People's Voice Award. 1st ever recipient.
Betse & Clarke (and Red) – Brushy Creek at Benton's.
Calvin Arsenia (virtualist, singer, harpist from KC) and my man, Rick! 'Round Midnight! Thanks men.
Jeff and Erin (Victor & Penny) at Benton's. There's Rick again and multi-instrumentalist (saint) Kyle Dahlquist.
Creative Business Models Panel
Drums for your feet. And cool Socks at the Expo!
Sideman Panel. Encouraging info if you are sick of your band leader!
Silas Lowe and Crew. A highlight. Saw many performances of these guys. All incredible writers and players from TX.
Pushing Chain. Great duo, vocals and songs.
Rebekah Roland Trio. These guys were from AZ but on a grant to write songs about the Homestead Grassland Prairie Grass near Beatrice NE. Thank you for your work, guys. Cool set.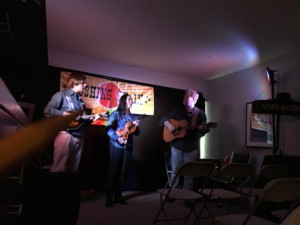 Raven & Red (and Cole). Mitchell and Cole are bros. from Atlanta with Brittany from Pennsylvania but all in Nashville now. Saw them several times. So great and such sweet people. Amazing originals and traditional Irish tunes. I want to be their friend.
My New Car! Just kidding.
Took a break for some tacos and to sneak out to the best place in KC for Jazz. The Green Lady Lounge. Ken Lovern, Brian Baggett, Kevin Frazee and the incomparable, Danny Embry made for "Guitar Elation". I could have stayed and been very happy for another 3 hours. KC really has the best musicians. In case you didn't know it.
Singing the hits they wrote for Don Henley and James Taylor! Kortchmar, Postell and Navarro brought the Dirty Laundy and New York Minute (oo oo ooh). Tried to help Danny later find a 9 volt battery. Alas…

Garrett Labeau was a last minute reschedule. I'm so glad I caught them. One of my favorites of the whole fest! I want to be their friends too.
Matt the Electrician! Not what I expected. Everybody else knew him but this was my first exposure. The vocal harmonies with his female backers was angelic and one-of-a-kind.
Ross/Wahlsteen/Graham. I really wanted to see this guitar centric, new acoustic guitar heroes, trio. Very cool. AND I got to interrupt there lunch later. Thanks guys. And thanks Allan.
The only one of these I saw all week. Double neck Sho-Bud with 8 pedals and four knee levers. Thanks to the Woody Pines for bringing it. Sorry if I made you uncomfortable talking about it. Great playing and great set.
Woody Pines in action.
Real nice pitch considering it's a stick, a string and a washtub. You got to put a hole in the tub though.
The real deal in the Local 1000 room.
The Sons of Town Hall. Cool act. I really wanted this guys hat. I was them crossing via duct on foot but in full costume and took a better picture than this. Fun stuff and a great concept.
Lots of times… we just jam and play, talk and tell lies in the lobby.
Beppe! Intro to Flatpicking. I know what a pick is but still…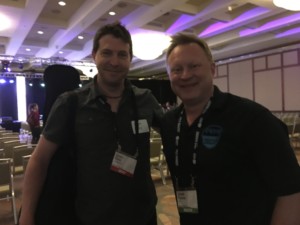 Don't nobody sound good without this guy. My homey, Shawn Poores and crew keep it sound real nice for all the performers.
Oklahoma Room. Guess where these guys were from? Really great.
Jonathan Byrd and the Pickup Cowboys. One of my favorites. This really knocked me out with the performance and the songs. I got to meet the sideman, Johhny over a quick Scotch between sets. I asked him his many secrets including his great singing, guitar playing as well as being a "saw" virtuoso. "Just something I picked up" he said. His theatrical training really applies well here and he's an amazing musician. I want him in my band! Top 5 this weekend, at least.
You are able to get a songwriter's critique. Brutally honest. Which I suppose is what you want.
"Who are you and what band are you in?" Aw… Our girl, Hope Dunbar of Utica, NE killing it with an award for lyrics from Songwriters Magazine. In a round robin, song circle here with the great, RJ Cowdery.
Top 5. The Way Down Wanderers. I want to be in there band but I don't think I could hang. They've got big things ahead and a great thing going.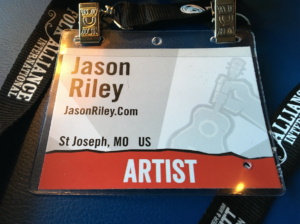 Let me in! I'm legit.
KC, you're on to us. SOLD OUT.
Ok… let's jam some more.
Washington Park Place. Keeping the pre-show tally as a Volunteer.
Korby Lerner had a great band, great songs and an educationally encouraging name.
I met Bob McWilliams! My hero from KS public Radio. Also… a native St. Joey.
KC native, Jeff Black had a great set of music AND one of the best showcase attendances of the night.
John McCutcheon. Incredible. The most incredible hammered dulcimer I have ever heard played. Incredible all the way around. Did I mention the incredibility?
Molksy's Mountain Drifters were the deal. Powerful trio, virtuosity, singing and amazing repertoire.
Laura Cortese & The Dance Cards. Female string quartet AND they sing 4 part AND they write. Beautiful and nothing like it. Come on?
Radio Free Honduras! Perhaps my very favorite. Definitely top 5. I was disappointed with the numbers at their showcase. A lot of folks really missed something special. I sought them out over and over again.
Making Movies in the Carnaval Room. I've got to say.. whoa. I missed there special presentation ahead of Billy Bragg but heard many people say how great it was.
Tony Furtado looks like a demon with a cello banjo in this pic but he's really very nice. He is a demon on those strings in many ways. I got to say hello and had looked forward to seeing him up close and personal. Great set.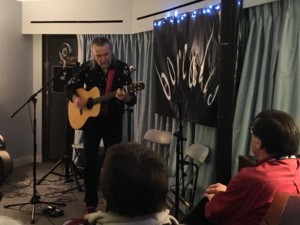 Beppe! en showcase. His lovely wife gave me her spot so I could have a good view. Great view! And glad to see Jonathan Byrd and the Pickup Cowboy sneak their way in.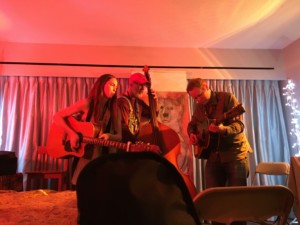 These are my peeps. Under the Big Oak Tree. Just great two years ago. Truly exceptional now and better each time I see them. I always see something new in the playing and the compositions. Great showing guys!
Free Radio Honduras in a private showcase. I've never seen somebody break a thumb pick but Charlie did it right in front of me (on a nylon string guitar!)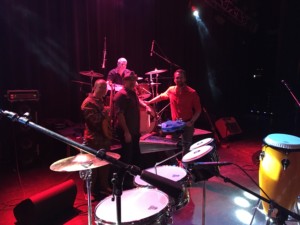 I didn't see any steel pans at the conference. These guys aren't exactly what I'd consider Folkies anyway. I had to take a day out on Saturday to hit it with Soca Jukebox at the Voodoo Lounge for a special VIP party. Later, we played a benefit for Parents of Children with Special Needs from KC.
Slam Poetry! With a harp…
The Pretend Sweethearts from Atlanta. Met these guys last year and it was just hugs all around. amazing to hear them.
Free Radio Honduras! Couldn't get enough.
Brody Buster. The KC harmonica prodigy and recent winner of the International Blues Competition as a solo artist really delivered. Smart, intense, unique. KC baby.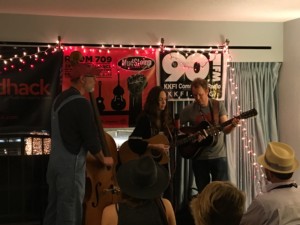 Trying hard not to miss Under The Big Oak Tree.
Lance Canales has become a steady friend at the FAI. MtM played a show with him a couple of years ago, we've crossed paths and he's a solid dude. His music is aggressive and frankly, terrifying. It's no wonder why people are drawn to his music or that he is a star at the conference. This is a solo showcase but his band is something special too.
Endless fun in the Mud Stomp Room!
Did I mention endless fun in the Mud Stomp Room? It was a dance party with OSOG from Israel at the end of a long day.
Love this Bro and Sis team. She writes the music, he builds the guitars!
Chris and Havila Bruder and co. LOVE!
Harpist, Ruth Acuff and Kristen from UTBOT… just chilling'.
Ain't No Party Like a Mud Stomp Party!
Fado Portuguese with Ensemble Iberia in the KC Music Collective room. This show was a real standout of the entire conference. And filled with friends!
Ramy Essam from Egypt was the real deal. Here he is with Calvin Arcenia from KC in the Music Collective room. Another real standout. This was a special place to be. So glad they let me in.
Chris Meck, no guilty birds but a whole lot of handsome.
Mark Manning AND Chris Hagrarian! KC in the house.
No fun for anyone.
Steve Poltz leaping chairs and stages. One of my favs from last year too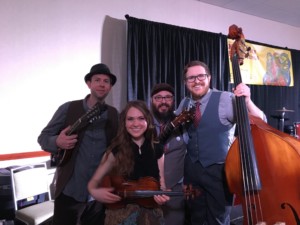 The Center State! So great to see our own St. Joseph artists making an incredible showing. Great music and performance, sound and creativity. Way to go, St. Joe! And they were on hand for a lot of the conference too.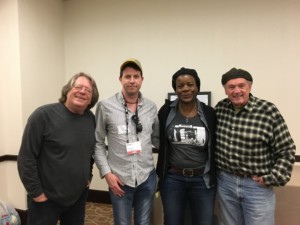 Cécile and los chicos making memories. What a spirit and her blues broke our hearts into two pieces at least.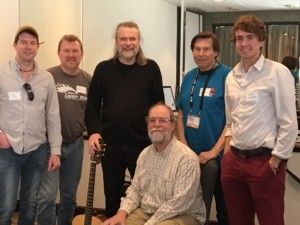 Beppe and los piasanos! Class on the masters of Flatpicking. Truly great.
This was the final event for me at the FAI this year. I did talk Bill into taking me out for beer! Thank you, Bill.
Performance Highlights I saw a lot of music but a little disclaimer… for every cool thing I heard, I missed 10 other cool acts. These are the ones that fell into my proximity, that I searched out, that surprised, inspired or called to something in my heart.
Free Radio Honduras
Brody Buster
Beppe Gambetta
Don Ross, Walsteen and swede, allan agent
Garrett Labeau
Silas Lowe/Sophia Johnson
Matt The Electrician
Way Down Wanderers
Johnathan Byrd and the Pickup Cowboy Johnny
Son of Town Hall – took photo on bridge
Korby Lenker
Jeff Black
Portuguese Fado w/ Ensemble Iberica
Dance in the Mud stomp room with OSOG
Under the Big Oak Tree
Tony Furtado
The Good friends I Found at FAI (and new friends too)
Don Simon of Mud Stomp Records
Drew and Bri of Pretend Sweethearts
Tieann from AZ
Jeremy and co. from Center State
Fran from Concerts in your home
Mary Flower
Jenny Tonyes from the FA
Emily White
Jeff and Erin from Victor and Penny
Lance Canales
Rick from VP and Calvin Arsenia
Madalen O'Regan
Paul and Crew from volunteers
Ramy Essam
David Hakan
Beau and Jordan from Iberia
David Amram
Kris Kristopherson
Megan Mullally
Paula ColeHarp kid
Rebekah Roland Trio
Clarke, Betse and Red (Brushy creek)
Tim Huggins, Chris Robely (Plus Chris's mom and daughter! So awesome to meet the family in KC.)
Chuck Mitchell
Kim at DR Strings
Chris and Havilla Bruder

Raven and Red – Mitchell, Brittany and Cole
Allan with RGW
OJT
Woody Pines
Smitty
Bob McWilliams
Jason and Mary from Wichita
Tina
Bob Walkenhorst
Bliss Hippy from MO
There is a lot to take away from a conference like this.

I'm grateful that it is my own backyard in KCMO.
People travel from all over the world to participate here. I personally met artists from Australia, Sweden, Canada, Germany, Egypt, Israel, Ireland, Africa, Native America and many of the states in our union.
Everyone got a pocket US constitution!
For the most part, it was very friendly and supportive. There are some artists with egos and strong personalities that keep them from associating well with folks who might be supportive like tech, organization and base volunteers. I did feel some slight discrimination from some folks who saw me first as a grunt in the trenches (who are needed) vs. an artist on the stage (who are needed).
I was very happy and humbly grateful to be able to serve this year. I didn't see everyone I wanted to hear.
There were many pleasant surprises. It's an amazing event to have in KC. We'll get one more year of FAI here.
Then to Montreal… Then…?
I hope the KC community has proven itself and will pull out every stop to get the conference back home again for another 5 years after that.
Sincere thanks to the artists and contributors that I met this week in KC. You are an inspiration. Your collective energy is tangible and we need more of that everywhere.
Thanks for the good times. See you soon.
jason
http://www.jasonriley.com
https://stjosephartsacademy.com
http://www.socajukebox.com